Cela faisait quelques semaines, que nous n'avions plus de news concernant la Tracklist Tueday de Guitar Hero Live. Voici que l'editeur reprend donc la ou il s'etait arreter.
Voici donc dix titres supplementaire, en plus des 54 deja listé (en bas de l'article) avec de la pop, du rock, du metal, et du rap avec Cypress Hill featuring Tom Morello.
« Counting Stars » OneRepublic 
« Now » Paramore
« San Francisco » The Mowgli's
« Rise Up » Cypress Hill feat. Tom Morello
« The Final Episode » Asking Alexandria 
« Metal Zone » The Vines
« Moaning Lisa Smile » Wolf Alice 
« Down With the Sickness » Disturbed 
« Lazerray »TV On The Radio
« Coming of Age » Foster The People 
Avec egalement 22 titres inédits ajouté l'ors de l'E3 de cette année.
"The Lazy Song" Bruno Mars
"American Idiot"  Green Day
"Lust for Life" Iggy Pop
"Before He Cheats"  Carrie Underwood
"Thunder Kiss '65" White Zombie
"Under Cover of Darkness" The Strokes
"Are You Gonna Be My Girl?" Jet
"Freak on a Leash"  Korn
"Thunder on the Mountain"  Bob Dylan
"Higher Ground"  Red Hot Chili Peppers
"Pedestrian at Best"  Courtney Barnett
"Bulls on Parade"  Rage Against the Machine
"Feels So Close" Calvin Harris
"Come With Me Now "  KONGOS
"Rimbaud Eyes"  Dum Dum Girls
"I Gotsta Get Paid" ZZ Top
"Another is Waiting" The Avett Brothers
"Breaking the Law" Judas Priest
"Asleep at the Wheel" Band of Skulls
"Best Day of My Life" American Authors
"What Doesn't Kill You" Jake Bugg
"Sounds Like Balloons" Biffy Clyro
Sachez que si vous commander le jeu avant sa sortie du 23 octobre, vous obtiendrez un pack de musiques et d'éléments de personnalisation aux couleurs du groupe Avenged Sevenfold.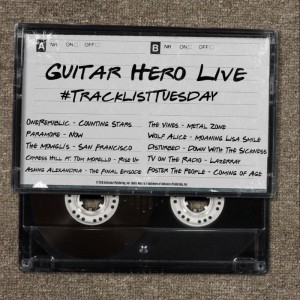 Les 54 Tracklist déja présente:
The Black Keys – « Gold on the Ceiling »
Blitz Kids – « Sometimes »
Ed Sheeran – « Sing »
Fall Out Boy – « My Songs Know What You Did in the Dark (Light Em Up)"
Gary Clark, Jr. – « Don't Owe You a Thang »
Green Day – « Nuclear Family »
The Killers – "When You Were Young »
The Lumineers – « Ho Hey »
My Chemical Romance – « Na Na Na »
Pierce the Veil – « King for a Day (feat. Kellin Quinn) »
The Rolling Stones – « Paint it Black »
Skrillex – « Bangarang »
The War on Drugs – « Under the Pressure »
Black Veil Brides – « In The End »
Rage Against the Machine – « Guerrilla Radio »
Judas Priest – « Breaking the Law »
Pantera – « Cowboys From Hell »
Sleigh Bells – « Bitter Rivals »
System of a Down – « Chop Suey! »
Alter Bridge – « Cry of Achilles »
Alt-J – « Left Hand Free »
Broken Bells – « Leave It Alone »
Red Hot Chili Peppers – « Higher Ground »
The Pretty Reckless – « Going to Hell »
Royal Blood – « Little Monster »
Marilyn Manson – « Disposable Teens »
Killswitch Engage – « In Due Time »
Marmozets – « Move Shake Hide »
Of Mice & Men – « Bones Exposed »
Deftones – « Diamond Eyes »
Vista Chino – « Sweet Remain »
Bring Me The Horizon – « Shadow Moses »
Mastodon – « High Road »
Trivium – « Strife »
Halestorm "Love Bites (So Do I)"
Tenacious D "Tribute"
Beartooth "I Have a Problem"
Pearl Jam "Mind Your Manners"
Rise Against "Tragedy + Time"
Soundgarden "Been Away Too Long"
Anthrax "Got The Time"
Architects "Gravedigger"
Chevelle "The Clincher »
A Day To Remember "Right Back At It Again"
Queen « Tie Your Mother Down »
Alice In Chains « Stone »
Bullet For My Valentine « Temper Temper »
Deap Vally « Lies »
Wolfmother « Sundial »
Weezer « Buddy Holly »
Angus & Julia Stone « A Heartbreak »
Catfish and the Bottlemen « Kathleen »
Neon Trees « Everybody Talks »
New Politics « Harlem »